At present I'm still trying to update some areas of the site. There are over 100 new links to add to the database and two new directories to be added.
There are a few new tools on the site, they were always here just hidden:).
So folks there's not really a new feature article other than all the updates to the old ones.


Browse the whole site especially the resources and references I've added many new useful links already.


I have briefly mentioned the LinkMachine in the past but it has never been featured before. I am expanding this tool to hook to a database and I will be distributing it free of charge to those who can run Perl LOCALLY!


Submit To 400 Promotional
Sites In 15 Seconds. Try Link-O-Matic For Instant
Traffic To Your Site!


Welcome to Webmaster T's World of Design
"Recently Reviewed by Webmaster T"
I recently read a report about Google Adwords by Andrew Goodman. It was a great read and contained many valuable tips on creating and managing Adwords marketing campaigns.
The explanations for using relevance and clickthru algorithms to increase ROI, alone, are worth purchasing the guide. Andrew, has written an excellent reference for Google Adwords and I would recommend it as a "must have" for anyone participating in this program!
The link isn't an affiliate link, it is directly to Andrews' site.

We have added an index to the marketing area devoted solely to email resources and references. The tutorials were written by guests who are/were well known. Terry Williams seems to have disappeared anyone who knows how to contact him should email me at missingpersons@tsworldofdesign.com ;)
Those of you who have trouble managing and using email to its fullest will find lots of information on email management and responsible email marketing.

The search engine placement site has the usual updates. I haven't done the usual query the engines to death to figure out what is happening now however one of the tools in development is being built specifically with this in mind. My hope is it will be a FREE Web Position KILLER!
Yes, my disgust for this company deepens daily! Every new report of diminished results and the companies deceptive policy of blaming the WRONG guys gets me real worked up!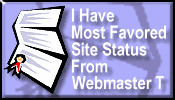 Only a few so far are you next?




All the resources at your disposal are listed below.





References for everything from basic to advanced html, DHTML and CSS.




You'll find some useful tools in the tool box and great links for marketing.




Tutorials to help you develop and design that killer site!




All the Free Search Engine Placement Secrets you want are on this site.




Use the information and links and you'll improve traffic to your site.



See some past covers and articles to see how the "WOD" has evolved.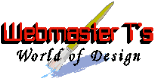 Thanks to Lin at AccuType for contributing the new graphic!



See if you qualify for our award!




Only a few so far are you next?