Awards We've Won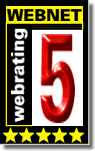 Tired of going to the search engines and weedin through the useless sites well this is a great place to go instead. On the promotion side if you're not rated yet get on over this is being promoted pretty heavily.



A very nice site with good reviews and links.




LinkMonster's Best!

One of the best reciprocal links sites on the net and administrator for Award It a multi-submit awards site. Fill out 1 form and submit to this site and plenty more and it's growing!






The Guide of the month For September.Thanks Argus
This site is very similar to WebRatings. It has some excellent resources and as usual if you're not listed yet what're you waiting for it's free! After our original listing we followed up and were Awarded the Digital Librarian's Award.



Although it's only the Silver Diamond Award rest assured as we flesh out the site we will be resubmitting to our partner at Award-it.com for the much coveted Gold Diamond Award.





It is an honor to accept this award considering much of what I know was learned using the fine tutorials at this site. It's much like the teacher patting you on the back and saying "you finally got it,". For those newbies out there start here and you are well on your way to HTML enlightenment.

Page Of Fame