All of the Planets and most Animated Stars are links
so beam down to one of our "Brave New Worlds of Design"
and check it out! The site will be edited weekly with new Html
Resources so bookmark this location for useful scripts and tips!! Not
from Webmaster T but from associates from the HTML Writers Guild or
just accomplished authors.There will be a monthly tip (first in Feb.)or article
in the promotion and HTML areas of the Site Developers Resources Page. If you're
interested in contributing something e-mail Webmaster T and he'll supply more details about
submitting a script or article for consideration. May the Java Gods smile on you and the Demon
Viruses be few and very, very far between!!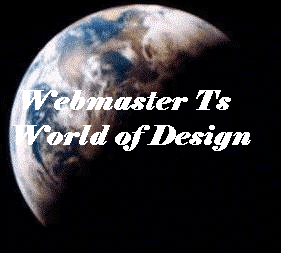 Best Experienced With



Click here to start


Subscribe to T's Bulletin for updates to this site and references
and resources for HTML and web site promotion tips!!
To subscribe send this blank email to welcome-tsbulletin@ourlist.com

Home || Tutorials || HTML || Marketing || Awards ||
Search Engine Placement || Site Developer || Web Site Promotion
Email Marketing || Site Sponsorship and Banner Advertising
3 Step Promotion Plan || Developers' Toolbox || Style Guide
Send mail to iwb@globalserve.net with questions or comments about this web site.
Copyright © 1997-98 International Website Builders